We can debate all day whether or not MTV
glorifies teen pregnancy
, but one of its more infamous reality stars certainly doesn't make her life look appealing.
Teen Mom star Amber Portwood is once again in the spotlight, and it's not because her baby daughter's so darn cute. It's because of - you guessed it - RAGE.
We reported recently about Amber's ex, Gary Shirley, creepin' on random girls. Turns out he's started dating one of them, and the situation came to a head.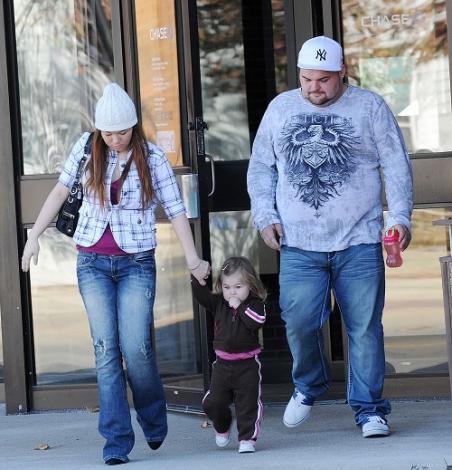 Amber Portwood, Gary Shirley and Leah in less turbulent times.
"Gary and his new girl were hanging out on Friday night and Amber was late night texting him like she always does," a source close to the situation said.
"His date thought it was inappropriate, the things Amber said, so she called and told her to quit trying to get him to hang out because he's moved on."
Portwood has also moved on with Clinton Yunker, but friends close to the reality TV star say she still holds out hope of getting back with Gary Shirley.
"Amber was jealous that Gary's been with other girls since they broke up," the source said. "Gary's new girlfriend is way prettier than Amber and it drives her crazy. She even asked her what someone as pretty as her would want with Gary."
Portwood was so upset that she went over to Shirley's house and demanded that he delete his new girlfriend's phone number from his cell phone.
"Gary really likes this new girl, but he was mad at her for telling Amber they were dating and stirring the pot ... he knows the way Amber can be."
"The whole thing was really weird because then all of a sudden Amber Portwood flipped the switch and started trying to befriend Gary's new girl."
Portwood was charged with domestic abuse following the airing of an episode of Teen Mom where she hit Shirley and the Indiana Department of Child Protective Services temporarily removed their daughter Leah from her home.
Leah is now back home with Amber, but remains under DCS supervision.
"Amber insisted on doing a three-way call with Gary and his new girl but got angry when she heard the way he was talking to the new girl because she said it was 'how he used to talk to me,'" the insider said ... and so the saga goes.

Read The Original Sourcetrend USA news