The Britney Spears tape upon which Jason Alexander claims his ex-wife detailed the beating she took at the hands of Jason Trawick appears to be bogus.
Alexander told Star that Spears' boyfriend beat her up, and she didn't call the cops because she feared a leak. He then leaked the tape to Radar Online.
But a highly-respected audio expert tells TMZ that Jason Alexander's tape of Britney Spears "has been electronically stepped on," i.e. doctored. A lot.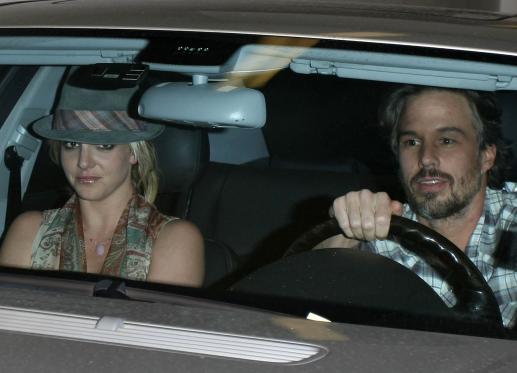 Britney and Jason in a show of public solidarity yesterday.
Tom Owen of OWL Investigations is Chairman of the Audio Engineering Society Standards Committee of Forensic Audio. He says the tape was altered, badly.
So much so, he can't even do a meaningful voice-recognition test.
Owen says the tape has been "stepped on at least 3 times" with noise reduction, equalization and removal of aspects like timbre, sibilance and tonal qualities.
So did Alexander get punked or was he in on this from the get-go?
Regardless, the expert says Britney Spears has a "very vanilla voice" and with modest manipulation it wouldn't be difficult to make someone sound like her.
Kind of explains all the crappy Britney clones in music, on a side note.
Britney's manager, Larry Rudolph, adamantly denies it's her on the tape and may take legal action. For her part, Spears went to Trawick's office yesterday.
She spent time with Jason inside the William Morris Entertainment building, where he works as an agent (formerly her agent), left by car, then returned.
All in full view of the media, surely as a public showing of solidarity.
Jason Trawick was also seen outside the building and appearing calm, rather than nervous or ducking for cover. He is equally adamant the tape is bogus.
Read The Original Source
trend USA news